Flamenco dress HappyDance mod. E4454
OVAL NECK LINE FRONT DRESS AND PLUNGING NECK LINE BACK. WAISTED AT HIPS. BIG AND SMALL INSETS. SMALL ONES INTO GORES GO UP POINTED. FULL CIRCLE AND HALF.
Jersey
The intensity and color tones may vary depending on the configuration and calibration of your screen.
Sizes / Measurements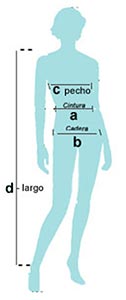 Sizes in centimeters
Size
Chest
Waist
Hips
Length
4
60-62
54-55
61-64
99
6
63-65
56-57
65-68
108
8
66-69
58-59
69-72
118
10
75-77
60-62
73-79
125
12
78-81
63-65
80-85
134
14
82-85
66-68
86-92
138
38
86-88
69-71
93-97
145
40
89-91
72-74
98-100
145
42
92-94
75-77
101-103
145
44
95-97
78-80
104-106
145
46
98 -100
81-84
107-109
145
48
101-104
85-90
110-113
145
50
105-108
91-96
114-116
145
Product available since: Sep 15, 2011. Last modification: Apr 5, 2019